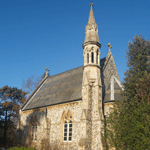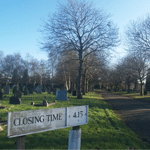 Resources Our Facebook page Contact us by e-mail
Friends of Earlham Cemetery Events
Sunday 18th March 2018 (2pm) Cemetery History.
Sunday 15th April 2018 (2pm) Bees and Spring Flowers.
Saturday 12th May 2018 (2pm) Lichens.
Sunday 10th June 2018 (2pm) Hoverflies and Flies.
Sunday 8th July 2018 (2pm) Yellow Rattle and Summer Flowers.
Saturday 11th August 2018 (2pm) Big Butterfly Count.
Sunday 23rd September 2018 (2pm) Plant Galls and Leaf Miners.
OTHER EVENTS
Sunday 1st July 2018 - Summer Drinks (8 pm) The Black Horse, 50 Earlham Road, Norwich, NR2 3DE.
Plant Markers
We are marking some key plants in the Cemetery with bamboo hoops, to stop them from being cut before flowering. Please contact us if you would like more information.
Friends of Earlham Cemetery
The Friends of Earlham Cemetery was created in January 2011 by a group of local residents. We aim to protect, conserve and enhance Earlham Cemetery for wildlife and as a place of freedom, recreation and enjoyment for the long-term benefit of all sections of the local community and other visitors.
We are working closely with Norwich City Council (who own the Cemetery) and Norfolk Wildlife Trust and have produced a Habitat Management Plan for the older parts of the Cemetery. In the past couple of years we have worked with TCV (The Conservation Volunteers) raking up cut grass, to reduce the fertility of the grassland and encourage wild flowers.
We hold informal monthly walks, starting at the main entrance on Earlham Road, by the Cemetery Office (see map). Everyone is welcome, but please be aware that no dogs are allowed in the Cemetery. Times of all walks are posted here on our website and on our Facebook page. Our photos of Earlham Cemetery are on Facebook and Flickr.
Our walks provide an opportunity to explore Earlham Cemetery and discover a surprising variety of plants, fungi, birds and insects. The walks also provide an opportunity for people who may not want to explore the cemetery alone to enjoy walking around in company.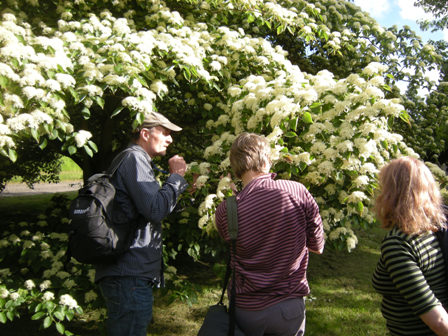 We have been able to discover more about the history of the cemetery and to explore distinct areas, such as those for war graves, military, Jewish and Muslim burials.
Earlham Cemetery Opening Times
Earlham Cemetery opening times are listed on the Norwich City Council website here.
About Earlham Cemetery
History
Earlham Cemetery (also called Earlham Road Cemetery) is the city of Norwich's municipal cemetery, a lovely area of greenery to the west of Norwich's city centre. The Cemetery dates from 1856 and was created as a result of an order issued by the Home Secretary to the Mayor of Norwich in April 1854 banning burials in Norwich churchyards.
The original Cemetery occupied 34 acres but has been extended since it was opened and now covers 85 acres. The newer pieces of land further out of the city have sparser tree cover and are more open. Many trees were planted when the Cemetery was established and there are some very fine specimens.
Friends of Earlham Cemetery are researching the history of Earlham Cemetery and have produced a brief guide as an Adobe Acrobat (PDF) file, entitled A Short History of Earlham Cemetery.
Wildlife in Earlham Cemetery
The Cemetery east of Farrow Road is a County Wildife Site.
The many fine specimen trees include Weeping Beech, Black Poplar, Tulip Tree, Ginkgo, Holm Oak, Persian Ironwood, Tree Of Heaven, Yew, limes, cherries and whitebeams.
Areas of longer grass and brambles have been left in places and plants such as Greater and Lesser Knapweed (Centaurea scabiosa and C. nigra), Sorrel (Rumex acetosa), primroses (Primula vulgaris), Cowslips (Primula veris) and Meadow Saxifrage (Saxifraga granulata) can be found, along with swathes of Cow Parsley (Anthriscus sylvestris) in the spring, followed by Hogweed (Heracleum sphondylium) in the summer.
Earlham Cemetery is home to quite a variety of birds, insects including moths, butterflies such as the Speckled Wood, Brown Argus, Common Blue, Ringlet and Orange Tip, bees (including the rare Large Scabious Mining Bee Andrena hattorfiana) and hoverflies. Mammals include Muntjac deer, Grey Squirrels and Foxes.
The 'Documents by Friends of Earlham Cemetery' section of our Resources web page has links to an ever growing list of plants and wildlife found in the Cemetery.
Please let us know your wildlife sightings by e-mail.
Awards
In 2012, 2013, 2014, 2015 and 2016 Friends of Earlham Cemetery won a Royal Horticultural Society 'It's Your Neighbourhood' award.
On 22nd July 2014 we won the Group category of the Norfolk Biodiversity Partnership Community Biodiversity Awards 2014.
Photographs of Earlham Cemetery
Our Facebook and Flickr pages have galleries for different seasons of the year, to give you a glimpse of what Earlham Cemetery has to offer visitors.
Our Logo
Our logo design, featured in the website banner, has been created by Vanna Bartlett, and features a Holly Blue butterfly, ivy and a gravestone.
The Holly Blue butterfly (Celastrina argiolus) has two broods in a year. In Spring the female butterfly lays her eggs on the flower buds of Holly and in Summer Ivy flower buds are used.
The butterfly is found in woods, shrubby parks, gardens, churchyards and cemeteries and is often seen in Earlham Cemetery in Norwich.